Art is typically defined as something we do. It can be expressed through work, thoughts and emotions. Painting is one such kind of art which refers to the visual composition of colors on a surface or medium. Some paintings are good because they are beautiful, some may express deep explanations of truth while some are relatively artificial. There are many systems in painting wherein in some techniques even novice artists can also show their talents because the concepts are simple and easy to portray. A well-known system in painting is "painting by number".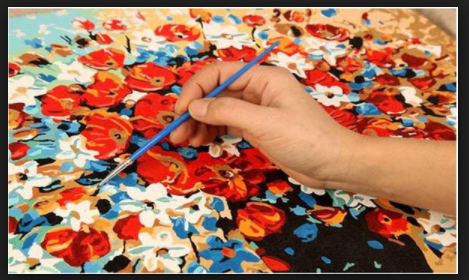 Painting by Numbers- A Helpful Techniques for New Artists
Painting by Number is a technique wherein the pictures is divided into shapes or sizes. Each of these shapes are assigned a specific number that is related to a certain color. As you paint the picture following the instructions, eventually you will end up with a beautiful finished painting. This approach is quite simple and more popular among the beginners because it is pretty easy to follow and present the final image. The history date backs to 1950's, but the system is now trending after it was made in the kit forms and it gained the attraction of the audience.
What is basically a Paint by Number Kit?
Paint by Number kit basically comprises of a printed outline of the picture either in the canvas form or paper form, pots of multi-colored paints and brushes. For kids, the paints can be watercolors because of their ease whereas for adults and professional artists, the paints are usually acrylic or oil painting. Generally, beginners can start with acrylic paints because of its ease.
Final Thoughts
This art of painting by number is existing for decades since Leonardo da Vinci ages where he invented a form and gave his juniors to work on the regions which he already sketched the outline. Painting is indeed a beautiful art.