Random Runner, retro fun in virtual mode
For many people, the excitement and fun provided by a slot machine are unparalleled, a classic and entertaining game, which gained popularity in casinos. Due to its simple game modality, it is very accessible for a varied audience.
Nowadays and for the entertainment of many, it is possible to find this type of retro slots games online and in many forms, but some stand out for the shape of their game and the unique options they offer to players so that they can have fun at big. This is the case of Random Runner .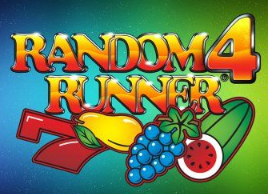 Random Runner is a slot machine game with aesthetics and classic performance, with a black background and golden shades, with fruits in bright colors and a very characteristic musical background. But Random Runner gives new life to this beloved game by incorporating a feature that sets it apart from other similar virtual games: two game reels, double fun, the double chance of winning.
The reels rotate simultaneously and synchronously combining the well-known fruit group composed of watermelons, pears, lemons, oranges, melons and cherries with the number 7, stars and the special symbol: the crown, here identified as Scatter. In addition, you can play in base mode or in top mode, for special prizes.
The winnings obtained in the base game can be transferred to Winbank to play with bonuses in the top game, where it is necessary to have at least 4 credits.
The combination of 3 watermelons allows you to earn 100 credits and the combination of 3 stars makes you win the maximum prize, 200 credits. If in a single roll 3 crowns appear in any position on the reels, your bet multiplies 20 times.
Some symbols have a small star that indicates that the bet will multiply by 200. And get a cherry on the first roll in the base game makes the machine automatically make a self-defense that allows you to earn 4 credits or nothing.